If I Ate You Would You Go Away? is a deeply personal piece about living with anxiety that uses tension, suspension, knotting, and floating to represent the disorder. It is responsive to its environment and physically trembles when gallery attendants approach it.

Childish is a playful piece that serves as illustration to choice rap lyrics while making a tongue-in-cheek reference to Freudian theory. It is also an unapologetic lovenote to Childish Gambino.

Childish and If I Ate You Would You Go Away? are the artist's first two soft sculptures. They not only express their respective concerns, they also mark the culmination of the artist's longing for the material and the process.
Powered by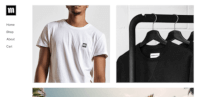 Create your own unique website with customizable templates.