A small scale exhibition by Amy Austin, Annie Hansel and Geneviève Brideau touching upon themes of community, gathering, dependence, and encasing.
Gather looks at the historical weight of gathering and it's various meanings, and the cultural implications of food and natural resources in a community setting. We ask the question: what constitutes disingenuous culture?
This piece is a participatory installation where the audience is invited to follow a set of instructions. By stopping to take part in a tactile experience, the viewers of Gather become participant in the encapsulated platform.
Powered by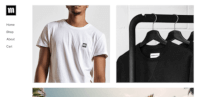 Create your own unique website with customizable templates.